Full Text
Eosinophilic esophagitis (EoE) is an immunologically mediated chronic inflammatory disease that causes esophageal dysfunction. It is diagnosed when there are ≥ 15 eosinophils/HPF (×400), having ruled out other causes of esophageal eosinophilia.1 It occurs in 4:10,000 children, with a 3:1 male to female ratio, and a mean age of 6.2 ± 4.8 years.1–3 Symptoms differ by age. In children < 6 years of age there is rejection of food, vomiting/regurgitation, and failure to thrive. Children > 13 years of age present with abdominal pain, dysphagia, food impaction, and chest pain.1
A 7-year-old boy with a history of food allergy (FA) and allergic rhinitis (AR) presented with persistent throat clearing unmodified by medications. Endoscopy was performed that revealed severe EoE.
At 3 years of age he had presented with abdominal distension, regurgitation, wheezing, and upper respiratory infections. An upper gastrointestinal series demonstrated reflux up to the upper third of the esophagus (grade III), with no hiatal hernia. Antibody testing showed total IgE of 129 IU/ml and the specific food allergen IgE test (ImmunoCAP®) was negative. Skin tests were positive for α-lactalbumin, β-lactoglobulin, casein, egg whites, wheat, soy, mites, and ash (tree). Patch tests were positive for milk, wheat, egg whites, and soy, and so a directed elimination diet was indicated. The patient received nasal and inhaled steroids, a proton pump inhibitor (PPI), and cisapride. The family abandoned medical surveillance for 4 years.
At 7 years of age, the patient sought medical attention for constant throat clearing that began in the fall and worsened with food ingestion. Frequent episodes of hiccups and excessive nighttime dry coughing kept him from sleeping. His mother gave him a nasal steroid, cisapride, and a PPI for 3 months, with no improvement. Endoscopy was carried out that reported Los Angeles grade 2A esophagitis due to reflux with > 200 eosinophils/HPF (Fig. 1).
Budesonide 500 µg, thickened with sucralose, was indicated every 12 h, and cisapride, a PPI, a directed suppression diet, and ash and mite subcutaneous immunotherapy (SCIT) for AR were also prescribed. Three months later, the patient was asymptomatic. Endoscopy was repeated, finding scant areas of fibrosis on the esophageal wall, with no eosinophils. The swallowed viscous steroid was gradually reduced, until completely suspended. The child remained asymptomatic for the following 2 years, with poor adherence to the diet and SCIT.
EoE is a chronic disease that conditions esophageal dysfunction. Frequent symptoms in children are: reflux, rejection of food, dysphagia, and failure to thrive.1 The patient described herein presented with persistent throat clearing as the only symptom. From 10-15% of children with EoE present with initial upper respiratory symptoms (cough, hoarseness, choking). Kelly et al.4 analyzed 362 medical records of children with EoE: 32.9% underwent otorhinolaryngologic surgeries, which were more frequent in children with atopy (3:1). EoE was diagnosed before the procedure in only 11.7% of the cases.
The number of eosinophils is a severity marker for EoE: mild EoE (15-30 eos/HPF) and severe EoE (> 100 eos/HPF).5 Our patient had severe EoE (> 200 eos/HPF).
EoE management includes dietary, pharmacologic, and endoscopic follow-up measures (Fig. 2).6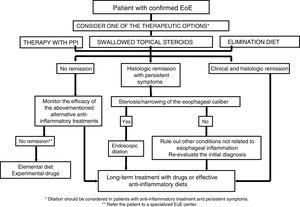 Figure 2.
Therapeutic algorithm proposed for EoE in clinical practice.
Source: modified from Lucendo AJ et al.6
(0.29MB).
Elimination diets reduce esophageal exposure to food allergens with varying results.1,6 PPIs decrease acid production and have anti-inflammatory efects.1 Upon consulting us, the patient had already received PPI for 12 weeks, with no improvement, which was why we began steroid treatment. Swallowed viscous budesonide achieves greater esophageal exposure and therapeutic effect than inhaled steroids, with EoE remission in 25-30% of cases in 4-6 weeks.1,6 In our patient, endoscopy at 3 weeks showed negativization of esophageal eosinophilia.
The role of aeroallergens in EoE is controversial. Chronic direct contact of allergens in swallowed mucus with the esophageal mucosa could favor eosinophilia5 and studies on animals lend support to that concept.7
Sensitization to inhalants increases with age. In a cohort of 211 children with EoE, there was greater sensitization to inhalants in children > 4 years of age. Sensitization to food predominated in children < 4 years of age.8 There is exacerbation of symptoms and esophageal eosinophilia related to pollination peaks in some patients with EoE and RA,5,8 but reports in the literature are contradictory.9
In a retrospective study on 11,080 children with EoE, symptoms and eosinophilia due to pollen were exacerbated in 14%, but that relation was refuted in a systematic review that evaluated 18 studies involving 16,846 patients.9
SCIT reduces IL-4, IL-5, and IL-13 and favors the production of regulatory T lymphocytes, IL-10, and the blocking antibody, IgG4, that diminish allergic inflammation.10 Based on evidence, the use of SCIT in EoE is not recommended9 but it could be beneficial in some phenotypes of EoE with uncontrolled RA.5,10
EoE is a recurrent chronic disease. The delay in diagnosis and treatment increases the risk for sequelae by 9%/year.5 The prolonged use of swallowed steroids reduces fibrostenotic complications, but 45% of cases relapse after 6 weeks of their suspension.2
Our patient remained asymptomatic with poor adherence to the diet and SCIT, suspending steroids at 12 weeks. He has not presented with relapse in two years. We suggest that patients with coexisting EoE and AR can benefit from SCIT.
Ethical disclosures
Protection of human and animal subjects. The authors declare that no experiments were performed on humans or animals for this study.
Confidentiality of data. The authors declare that they have treated all patient data with confidentiality and anonymity, following the protocols of their work center.
Right to privacy and informed consent. The authors have obtained the written informed consent of the patient and the corresponding author is in possession of this document.
Financial disclosure
No financial support was received in relation to this study/article.
Conflict of interest
The authors declare that there is no conflict of interest.
Please cite this article as: Rojas Pineda NA, Morfin Maciel BM, Chanona-Vilchis J. Aclaramiento de garganta como único síntoma de esofagitis eosinofílica. Reporte de caso. Revista de Gastroenterología de México. 2020;85:216–218.
Copyright © 2019. Asociación Mexicana de Gastroenterología