Full Text
A 36-year-old man with no previous medical or surgical history was evaluated in the emergency room, presenting with rectorrhagia, watery diarrhea, fecaluria, pneumaturia, and 12kg weight loss. The physical exam was normal, abdominal computed tomography showed diffuse enlargement of the middle and superior rectum, perirectal fat infiltration, enlarged lymph nodes (>7mm), and no metastatic disease. The initial colonoscopy showed an obstructive tumor, 7cm from the anorectal junction. A diverting loop sigmoid colostomy was performed the next day. Carcinoembryonic antigen (CEA) was elevated (11.4ng/mL), and given the history of fecaluria and pneumaturia, a cystoscopy was performed, documenting a 2mm orifice, compatible with a fistula. Subsequently, a fistulogram demonstrated that the patient had stage IIIC (T4bN1M0) rectal cancer, complicated with a rectovesical fistula. Biopsies showed a rectal adenocarcinoma and immunohistochemistry reported no microsatellite instability. Magnetic resonance imaging (MRI) identified a tumor infiltrating the posterior bladder wall and 3 suspicious lymph nodes (Fig. 1).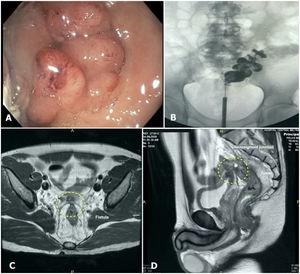 Figure 1.
(A) Colonoscopy showing a rectal mass obstructing 100% of the rectal lumen, located 7cm above the anal verge. (B) Fistulography performed through cystoscopy showed contrast in the distal portion of the sigmoid colon and superior rectum. (C and D) Initial T2-weighted magnetic resonance imaging, showing a tumor in contact with the posterior wall of the urinary bladder.
(0.47MB).
After discussions, the gastrointestinal tumor board decided upon neoadjuvant chemotherapy, in the setting of an active rectovesical fistula, despite the risk of septic complications, rather than initial radical surgery (anterior pelvic exenteration) that was suggested by the medical oncologist.
Given the patient's age and good pre-diagnosis status, the tumor board decided on total neoadjuvant therapy (TNT) despite the high risk of urinary sepsis. The patient was scheduled to receive 6 cycles of CAPOX, but after the third cycle, he presented with fever, fecaluria, and chills. Urinary sepsis was diagnosed, requiring broad-spectrum antibiotics (meropenem).
Induction chemotherapy (iCT) was interrupted, and the patient was re-evaluated and scheduled to receive neoadjuvant chemoradiation therapy (nCRT) (50.4Gy). Radiotherapy was delivered 10 days after sepsis resolution, and 9 weeks later, the tumor was re-staged with MRI, computed tomography, colonoscopy, and cystoscopy. The MRI showed a subtle reduction in tumor size, with persistent contact with the urinary bladder, and post-radiation fibrosis versus residual tumor was suspected. The size of the mesorectal lymph nodes decreased. Colonoscopy identified radiation proctitis and complete stenosis, and biopsies were taken. Cystoscopy was normal and biopsies of the fundus were carried out, all of which were negative for cancer cells. Eleven weeks after completing radiotherapy, a laparoscopy was performed, revealing persistent bladder dome involvement. En bloc partial cystectomy, laparoscopic low anterior resection with total mesorectal excision, stapled colorectal anastomosis, and a diverting ileostomy were then performed, with no complications (Fig. 2).
Postoperative recovery was uneventful, oral feeding was started 24h after surgery, and the patient was discharged 7 days after the surgical intervention. One month later, the patient showed significant clinical improvement, weight gain, and no evidence of surgical complications. The pathology analysis revealed acute radiation proctitis, extensive fibrosis with no evidence of cancer cells in the rectal tissue, with the conclusion of pathologic complete response.
Pelvic exenteration is indicated when infiltration of an adjacent pelvic organ is identified, to achieve a negative circumferential resection margin1. Currently, postoperative mortality is reported around 2.2% and median morbidity at 57%, R0 resection is achieved in 73% of patients, and local recurrence is about 22%2. Approximately 40% of patients undergoing pelvic exenteration for T4b rectal cancer staged with MRI demonstrate no infiltration to genitourinary organs in the final histopathology report3.
Neoadjuvant therapy, followed by low anterior resection plus total mesorectal excision and adjuvant chemotherapy (aCT), has been accepted as the standard management of locally advanced rectal cancer, an approach that reduces local recurrence4. The mild effect on overall survival and poor patient tolerance are the main reasons for studying new strategies whose first goal is to control the systemic disease. The TNT strategy is designed to treat locally advanced rectal tumors at high risk for positive circumferential resection margin, or evident node-positive disease, and is aimed at controlling micro-metastatic disease and improving overall survival. It involves delivering systemic chemotherapy (induction or consolidation), with concomitant nCRT. Preliminary reports of the randomized phase III PRODIGE 23 trial suggest that intense iCT before nCRT may provide better results. The main results are the percentages of completed courses: 92% in the TNT group versus 75% with aCT; 28% pathologic complete response versus 12%, and 76% disease-free survival versus 69%, in the TNT and aCT groups, respectively.
For the treatment of locally advanced rectal cancer complicated by recto-urinary fistula, there is no information about the recommended treatment, and controversy persists regarding the indication of initial radical surgery with pelvic exenteration, followed by aCT, to avoid septic complications or the conventional strategies of nCRT or TNT due to the risk of urinary infections and sepsis.
Our case report describes a short-term successful strategy to preserve the urinary bladder, despite the occurrence of urinary sepsis in the course of iCT, avoiding the morbidity, mortality, and impact on quality of life inherent in radical multi-organ resection surgery, with optimum surgical and pathologic results. However, oncologic follow-up is paramount because recurrence is a major concern, whenever organ preservation strategies are carried out. Good-quality evidence is needed to recommend bladder preservation as a standard surgical strategy in the treatment of T4b rectal cancer.
Ethical considerations
Informed consent was requested and signed by the patient, agreeing on the publication and distribution of all the clinical material included in the manuscript. Approval by the Ethics Review Board was not necessary, given that our manuscript is a single case report and does not meet the criteria for "research". All diagnostic images and clinical descriptions in the manuscript are completely anonymous.
Financial disclosure
No specific grants were received from public sector agencies, the business sector, or non-profit organizations in relation to this article.
Conflict of interest
The authors declare that there is no conflict of interest.
Please cite this article as: Lanza AR, Gallardo S, Oros CR, Afya A, Lopez MA. Un tratamiento multidisciplinario podría evitar la exenteración pélvica en fístula rectovesical debida a cáncer de recto localmente avanzado. Rev Gastroenterol Méx. 2022;87:493–495.
Copyright © 2022. Asociación Mexicana de Gastroenterología